chris's home page

The Daring Dragons

November 22, 2004

Thank you all for a wonderful season!

The following statistics include our final game on November 20, 2004. Note that the AYSO also has compiled statistics which were collected from the referee's hence the official word. Be sure to click on your award to download the

c

o

l

o

r

version of it!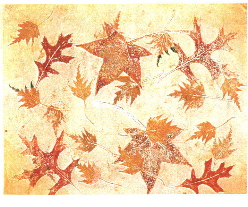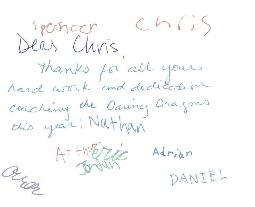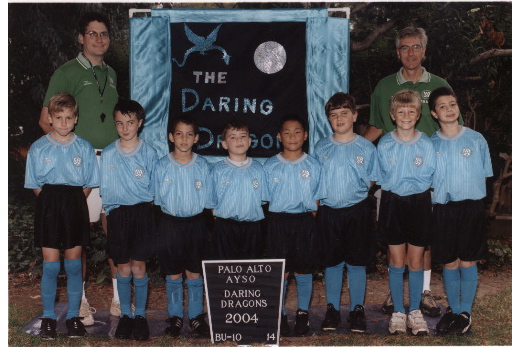 September 27, 2004

The Stanford game against Brown was a blast! These guys are

fast

and they kick very

hard

, but not fast and hard enough to get behind each others solid defenses. The game ended a tie. After two periods of overtime the final score nil-nil. Arthur, Adrian, Spencer, and Nathan joined John and me along with several family members for this great game, parade and festivities. Later I saw Daniel leaving the stadium so there may have been more of The Daring Dragons at different sections of the stands.

Robin passed this out earlier, but those who have forgotten already (like me!) can now check at this page. Thanks again Robin.

DARING DRAGONS
AYSO 26
Coach: Chris D'Urso
Asst. Coach: John Van Horne

SNACK SCHEDULE

09/11 Meredith
09/18 Avocet-Van Horne
09/25 Cheng
10/02 D'Urso
10/09 Hechtman
10/16 Linares
10/23 Rogers
10/30 Shavit
11/06 Smith
11/13 Zeigler
11/20 Meredith

--
Coach Chris

---


September 20, 2004

Daring Dragons!

Picture date/time is Sunday, October 3 at 10:00 AM (plan to be there 9:50 AM). The picture location is at Rinconada Park, near the fire station. A 5 x 7" team photo and a 3 x 5" individual photo are included in each player's registration with AYSO. You will have a chance to order more by selecting options and enclosing a check on an informational envelope. You must fill out this envelope with the players number and bring it to picture day. I'll bring these envelopes to Thursday's practice. (Coordinator: fdavies@stanford.edu).

[From Joshua Wirth]
Here is one last reminder to be sure to sign up for AYSO Stanford Soccer Days. Boys teams attend Stanford vs. Brown on Sunday 9/26 and girls attend Stanford vs. Saint Mary's on Sunday 10/3. Both games at 1 pm. Of course, all teams are invited to attend both games and get all the Stanford soccer players' autographs. If you sign up in advance, your team may have a chance to participate as ball boys/girls or play in a half-time contest. An autograph session will follow the game where our players can meet the Stanford players and get their free poster signed!

Adrian, Beverly and I would like to attend the boys game, so I will make a head count of those wishing to attend on Tuesday and report to Joshua that evening.

A reminder, Tueday's practice will begin early at 5:00 pm. On the calendar Back to school night begins at 6 pm, however I understand that our children's grades begin earlier at 5:30, so we will just improvise. Practice will be over some time between 5:30 and 6:00.

See you tomorrow.

-
Coach Chris


---

September 17, 2004

Hi Daring Dragons,

Yesterday I gave the incorrect time for the game. The Daring Dragons will be playing the Funky Flying Monkeys on Ramos field at 11 am. As always players please arrive at least 20 min early to warm up for the game!

My apologies for the error. The full and correct schedule is posted on the AYSO web site http://www.ayso26.org (login on the bottom of this home page) I don't believe it has changed from the hard copy I distributed.


Other important time related announcements:

Next Tuesday, 21 September, practice will be at 5:00-5:55 pm so that we can finish up before Ohlone Back to School Night.

Picture day will be either Sunday September 26 or Sunday, October 3. Ask tomorrow - by then I may get the date and time slot for our team.

This and team related information is posted on my web site http://www.durso.org/ayso/u10b11/index.html.

-
Coach Chris


---


September 9, 2004


Our first game is ...

Date
Field
Time
We Are
Nets
Opposing Team
Region
Team
Name/Color
Coach/Phone
11-SEP-2004
Ramos Park
09:45
Away
26
U10B-12
Hotshots?
Green
SCOTT SCHROEDER

The rest of the schedule is at webYouthSoccer login and I will bring hard copies to todays practice.
Its going to be another 90+F Indian summer day,

bring your water bottles

!
We would like to welcome a recent addition to our Daring Dragons team Eric from Fairmeadows school.
-
Coach Chris







August 30, 2004

Greetings Soccer Player and Parents,

You have been assigned to team U10B-11 to practice at Ohlone school on Tuesdays and Thursdays. Games will be on Saturdays starting September 11, schedules and locations to be determined.

My name is Chris D'Urso and I have had the great privilege and pleasure to coach U7-U9 A.Y.S.O soccer in previous years. If you have not played before, do not worry, you are not likely to be alone and you will probably catch up on the game very quickly. If you have played last year the game will be slightly bigger (7 v. 7) and the playing positions (offense/defense/goalie) slightly more formal. The good news is that the whole team will play on one field instead of being broken into two squads as we have been before!

John Van Horne will be joining me as an assistant coach. Coaches have much to focus their attention on before, during and just following a practice or game, so we will require your help. Kids, I would like you come to the

practices on time

and at least

20 minutes before game time

. Come ready to play, keeping in mind we typically have less than 2 hours of

team

practice before the next game. I would encourage you may practice all you like with parents, siblings and friends but realize that its not the same as playing with the

team

. Honor your

team

time and we will all get the most out of our precious resource.

Parents, I would appreciate having a "team mom/dad" to organize the following business Most of these jobs are very quick and easy; the referee job, the corner flags, the procurement of a team banner (if desired), the putting up/taking down of nets, field cleanup, and the snack schedule. In addition to these jobs practice goes smoothest if there are two adults. In the case that one of the coaches cannot attend one adult (or even young adult) should volunteer to stay for the practice. It will provide a great assistance to the team, and the helper will have a blast doing it even if they do not know how a thing about the game of soccer.

Our first practice is on Thursday, September 2nd, at 5:30 pm at Ohlone. Each child must have

given me "two wet-signed copies" of their registration form with

medical release

information. You may bring this to the team meeting. I must have this before you practice,
shin guards,
water bottle,
soccer cleats (broken in) before the field gets wet

A

team meeting

will be held on

Wednesday 7PM at the Ohlone field

. This just follows the Ohlone Back to School Potluck so I know many of you parents will there already. Please reply when you read this message so that I know you have received this information.

Some handy references are appended at the bottom. See you out there on the field!

-
Coach
Chris
chris@durso.org

our practice location -> http://www.ohlone.palo-alto.ca.us/
AYSO information -> http://www.ayso26.org/
team information -> http://www.durso.org/ayso/u9b-11.html
team/player information, our game schedule, also where you can print your registration forms -> http://db.webyouthsoccer.com/



The Daring Dragons

chris's home page