The LWB Easyracer Gold Rush Replica ,



I wonder if I ever got the opportunity to tour on one of these if I would ever try a tour on a SWB model again. I would think that this would offer plenty of space for bags and gear.

Oh well I may never know. The trouble with recumbents is that there are just not enough of them around! For the present time I only tour extremely light anyways.

The SWB Lightning Cycle Dynamics, P38 .


I had one of these on order but got cold feet before it was built and canceled my order. In speaking with P38 owners, it sounds like a very good bike for the lighter rider (at 6'3" I weigh in about 230#). I understand Bachetta bikes are popular too, but they have the same mono tube design that I have in my Lightning Phantom. From personal experience if not mechanical engineering expertise I think that a proper rear fork design must have a triangle in it. I like what Rans has done with their F5, having had a chance to test ride it I am just waiting to buy one.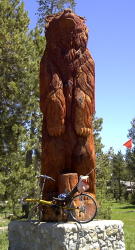 I have ridden this Lightning Cycle Dynamic Stealth/Phantom for 5 years putting about 20K miles on it. Its a stiff CRMO frame, perhaps its a little heavy, but with SRAM 9.0 components and triple ring it rides and climbs great.

I should say that I am riding on my third frame. While Lightning has been helpful with the replacements, I do not believe in the mono tube design. The frame forking in the rear causes too much stress for the welded joint. Right now I figure that I am cycling on borrowed time as I see hairline paint cracks near this critical joint. The beautiful SRAM 9 components, chain rings and chain are all on pretty warn as well so its really a race to what gives out completely first.