Cycling Northern California - San Francisco, Monterey, Markelyville Triangle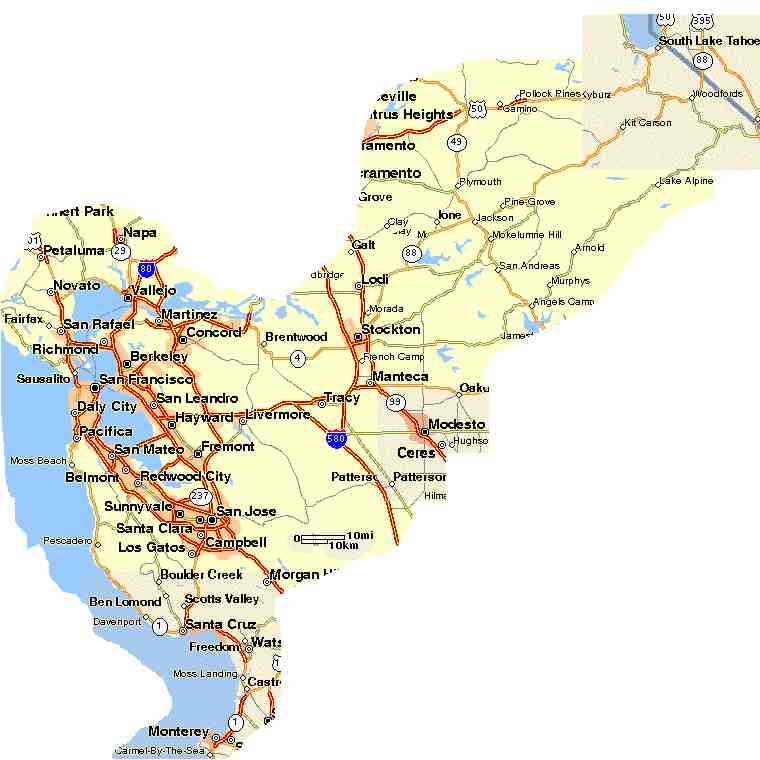 Last Update October 2018



__________________________

The following I will keep up for historical reasons only, but it is much better to journal and share on a public forum such as CrazyGuyOnABike.

This swatch of California is where I have done most of my cycling. I ride mostly solo although I do enjoy very much riding with buddies.

Although I have ridden for decades in 2002 I enjoyed my first light touring with an overnight trip from the

San Francisco Bay Area to South Lake Tahoe

. I also participated in the

Death Ride

my first organized ride. I did another century, a solo ride from Palo Alto to Modesto over Mount Hamilton and through the

Almaden Valley

.

I am compiling these notes in order to share them with other bicycle riders. I would be happy to hear suggestions and answer questions about these routes and rides. Please

email

me.




Rides/Routes
These are all rides/roads I have done/used in 2001/2002. Keep in mind roads and traffic conditions change. Verify the information here particularly notes on road conditions, traffic hazards, or suitability of the listed routes for bicycle travel. BIKE CAREFULLY AND USE THIS INFORMATION AT YOUR OWN RISK.


July 2018, Finnally after over a dozen years I've finally Gone Up the Hill To Arnold

Really I have done this a few times, but they were from Murphys, Collumbia, Groveland. This is the first ascent and round trip from Palo Alto albeit I did take the ACE Trian between Santa Clara and Stockton and on the return trip only got as far as Tracy. I am very terrible about logging even the bigger rides that I have done, but in this case I hope that someone can benefit from my notes. San Joaquine and Calaveras counties have some very rough patches as far as bikable highways. It might be a little better, or more consistenltly, documented, but one section needed to be manually reconstructed when I forgot to push the record button on Strava.



Commute from Palo Alto to North San Jose


This commute is so nice that it deserves its own page!
Bikely Route, Details



September 23-24, 2006


Big Sur Ride (organization), Bikely Route
Pictures and short report.





July 25, 2005 Bike Down From Arnold



It seems that I have been scouting this route out for years. I think that by now I know every bike able mile of road between Arnold and Palo Alto and I finally did the ride from Arnold to Palo Alto.

| | |
| --- | --- |
| Start Time 04:05 | End Time 17:28 |
| Total Time: 13 hours 23 minutes | Pedaling Time: 11 hours 13 min |
| Distance: 174 Miles | Avg Speed: 15.47 mph |
Trip Report/Route Information
The Death Ride, July 2002

This ride covers much of the sparsely populated Alpine County just south of Lake Tahoe. The entire ride is 129 miles (16000 accumulated ft. climb) and 5 mountain passes. I was turned back for missing the time cut off at Woodfords at the century (12000 accumulated ft) mark. It was a relatively nice day for the ride this year. About half of the 2600 riders completed the full ride.
official web site.


Almaden Valley, June 2002

I did this solo ride over Mount Hamilton in preparation for the Death Ride. This road up to the Lick Observatory is a popular bicycle climb. It has a poor western descent due to sharp turns and road debris. The eastern descent is very steep and far more remote. Its worth it, but watch out for the cattle guards. The Almaden Valley was the highlight of an all day trip from Palo Alto to Modesto. The total 100+ miles.


San Francisco to South Lake Tahoe

This back to back century was a great ride I did with my friend Brian Francois. The first day we traveled from Martinez to Stockton over Marsh Creek Road and Highway 4 and Stockton to Jackson on highway 88. The next day we ascended Kit Carson Pass, then Luther to the Sharrow's cabin on Pioneer Trail. Thank you Greg for the welcome party.

The difficult parts of this trip were Highway 4 truck traffic between Brentwood and Stockton. Late afternoon heat on the climb toward Jackson. The midday sun on the climb of highway 88. Fortunately the road is most difficult at the beginning of the mountain when it was still early and relatively cool.


San Francisco Bay Area

Santa Clara County (South Bay)
Bay Trail Maps (some are for cycling, others atb or hiking).



Skyline Blvd (Hwy35)

Skyline runs from Highway 92 in the North to Highway 17 in the South along the largest ridge between the San Francisco Bay and Pacific Ocean on the southern and largest bay peninsula. From this road you can frequently get great views of the bay and an occasional view of the ocean. Typical rides over this ridge from the bay to ocean an back are 60+ miles with 5000'+ climb. The temperature on Skyline can be considerably cooler than the bay valley, particularly on warm days or as you head west toward the ocean. Winds along the coast can be considerable, frequently when it is calm and warm or hot in the bay and central valley. The direction of the winds on the coast can vary though easterly is a good bet in the afternoon and evening.



Roads up and over Skyline

| | | | | | |
| --- | --- | --- | --- | --- | --- |
| West | | North | | | East |
| name | location | road information for west side | road information for east side | location | name |
| highway 92 | Half Moon Bay | Have not tried this. Not sure this is legal. Perhaps descent is safe. | Descent ok, although a lot of traffic | Canàda Road | highway 92 |
| | ends at Skyline | N/A | Good, 2 lane, light traffic | Woodside | Kings Mountain Road |
| Tunitas Creek Road | | Excellent ascent, remote, heavy canopy and car free. Poor descent due to road conditions. | N/A | ends at Skyline | |
| Woodside Road. Hwy 84 | San Gregorio | Can have high traffic. Good descent. Fair ascent. | Descent ok. Poor ascent with thin shoulders and traffic. | Woodside Redwood City | Woodside Road. Hwy 84 |
| Old La Honda Rd. | Ends at Hwy 84 | | best ascent, quiet 1 lane, steep. Posted: Bicycle descent not recommended. | Portolla Valley, Sand Hill Road / Alpine? | Old La Honda Rd. |
| Alpine Road | La Honda, Hwy 84, Pescadero | Quiet Road. Good conditions | fair road, weekend traffic | Palo Alto, Stanford | Page Mill Road |
| Hwy 9 | Big Basin, Felton, Santa Cruz | have not biked this | good descent, never tried the ascent due to traffic, though many do. | Saratoga, Cupertino via Redwood Gulch Road and Steven's Canyon | Hwy 9 |
| West | | South | | | East |